English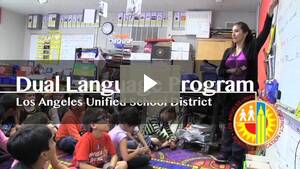 ~ Welcome !~
We are excited to welcome the new cohort of students into the Dual Language Program at Vista del Valle. We look forward to embark on this wonderful learning endeavor and are committed to providing the highest level of quality instruction to each student. We also want to congratulate our current students and thank our wonderful families for their support in establishing the first year of the Dual Language Program. This year has been a great success!
Program Goals
English dominant and Spanish dominant students learn together to achieve academic success in both languages.

The instruction of each language is given separately.

Students learn to read, write, and speak in English and Spanish in all content areas (Language Arts, Math, Science, Social Studies, and Art).

Students will develop an appreciation for cultural diversity through cooperative learning.