Student Interview with Principal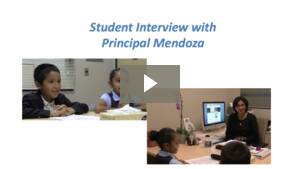 Principal's Message
Dear Vista Del Valle Families,
I would like to welcome you to Vista Del Valle Dual Language Academy for the 2017-2018 school year. I hope everyone had a relaxing summer with quality family time. For those of you who are new to our school, I want you to know that you are coming to an absolutely wonderful place. I can't tell you how excited I am to be leading this wonderful school forward this school year. I have been the principal of Vista Del Valle Dual Language Academy for the last seven years. I am looking forward to another wonderful school year where we create a strong love for learning, a fun and safe environment for all students to thrive and a caring community that puts students first. This school year, we will continue to implement the key instructional approaches from our school's Public School Choice plan:
Dual Language Program (English-Spanish)

Project-Based Learning

Technology-Infused Curriculum
The curriculum taught in all of our classrooms is aligned with the California Common Core State Standards in Language Arts and Mathematics, the Next Generation Science Standards, and the English Language Development Standards. The adjustment is made in our dual language classrooms of presenting the curriculum in both English and Spanish. Our teachers and staff are passionate, caring, hardworking, and always learning something new for the benefit of your children. My hope is that you will continue to work with us to help your child succeed.
I believe that building strong relationships between home and school is a key factor in increasing student achievement. As principal, my door is always open and I welcome your input. I strongly believe that parental involvement is an essential component to student success, as research continues to show strong correlation between increased involvement and high student success. Please consider joining our school volunteer programs our students can greatly benefit from your involvement and contributions. We seek volunteers to help us with the following activities:
Teacher-directed instructional support in the classroom

Breakfast in the Classroom program

Morning Reading Program (before school)

School-wide events

Outreach and recruitment of parent and community volunteers

Constructing instructional materials for use in the classroom
I will continue to send home reminders, information, and important dates in the monthly school newsletter at the beginning of each month throughout the school year. Please remember that my staff and I are here to serve you and your child(ren). I am always available and I look forward to building a strong relationship with you and your child(ren).
Thank you for sending your child(ren) to Vista Del Valle Dual Language Academy. I am looking forward to meeting you at Back to School Night on 8/29/17 at 5:30pm and providing your child with an excellent educational experience this school year.
Mrs. Mary Mendoza.
Principal
MENSAJE DE LA DIRECTORA
Estimadas Familias de Vista Del Valle,
Me gustaría darles la bienvenida a la Academia de Dos Idiomas Vista Del Valle para el año escolar 2017-2018. Espero que todos tuvieron un verano relajante con tiempo de calidad con su familia. Para aquellos de ustedes que son nuevos a nuestra escuela, quiero que sepan que están viniendo a un lugar absolutamente maravilloso. No puedo decirles lo emocionada que estoy de estar guiando esta maravillosa escuela hacia adelante este año escolar. He sido la directora de la Academia de Dos Idiomas Vista Del Valle durante los últimos siete años. Estoy deseosa de otro maravilloso año escolar en el que creemos un fuerte amor por el aprendizaje, un ambiente divertido y seguro para que todos los estudiantes prosperen y una comunidad que se preocupa por ellos y que pone a los estudiantes primero. Este año escolar, seguiremos implementando los enfoques didácticos en nuestro plan de Opción de Escuela Pública:
Programa de Dos Idiomas (Ingles-Español)

Aprendizaje Basado en Proyectos Dirigidos

Currículo Basado en las Normas Académicas Infundido con Tecnología



El plan de estudios que se enseña en todas nuestras aulas está alineado con 

con los Estándares 
Estatales Comunes de California 

en Lenguaje y Matemáticas

, 

Los Estándares Científicos de la 
Próxima Generación

, y los 

Estándares de Desarrollo del Idioma Inglés

. 

El ajuste se realiza en nuestras 
aulas de dos idiomas para presentar el currículo en inglés y español. Nuestros maestros y personal son 
apasionados, cariñosos, trabajadores y siempre aprenden algo nuevo para el beneficio de sus hijos. Mi 
esperanza es que usted continúe trabajando con nosotros para ayudar a sus hijos tener éxito.
Creo que la construcción de fuertes relaciones entre el hogar y la escuela es un factor clave para aumentar el rendimiento estudiantil.
Como directora, mi puerta está siempre abierta y acepto sus comentarios. Creo firmemente que la participación de los padres es un componente esencial para el éxito de los estudiantes, ya que las investigaciones continúan mostrando una fuerte correlación entre la
mayor participación y el alto éxito estudiantil. Por favor considere unirse a nuestro programa de voluntarios escolares ya que nuestros estudiantes pueden beneficiarse enormemente de su participación y contribuciones. Buscamos voluntarios que nos ayuden con las
siguientes actividades:
1)Ayuda con la instrucción, supervisada por el maestro, dentro del salón de clases



2)Programa de Desayuno en el Aula



3)Leer con alumnos (en la mañana antes del comienzo de clase)



4)Eventos escolares 



5)Invitar y reclutar a padres voluntarios y voluntarios de la comunidad 



6)Construyendo materiales de instrucción para el uso en el aula



Seguiré enviando a casa recordatorios, información e importantes fechas en el boletín mensual de la escuela al principio 
de cada mes durante todo el año escolar. Recuerde que mi personal y yo estamos aquí para servirle a usted y a su hijo/s. 
Siempre estoy disponible y espero construir una relación fuerte con usted y su hijo/s.





Gracias por enviar a su hijo/s a la Academia de Dos Idiomas Vista Del Valle. Espero conocerlos en la Noche 
de Regreso a la Escuela el 29 de Agosto a la 5:30pm, planeo ofrecerle a su hijo/s una excelente experiencia 
educativa este año escolar.
Sra. Mary Mendoza,
Directora