Student Interview with Principal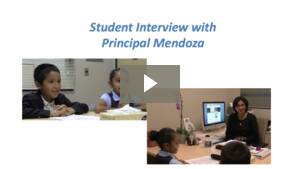 Principal's Message
Dear Vista Del Valle Families,
The entire Vista Del Valle Dual Language Academy teaching staff and I welcome you and your family to the 2018‐19 school year. We are incredibly excited to begin our eighth year here at Vista Del Valle Dual Language Academy! My goal as Principal of Vista Del Valle Dual Language Academy is to guide and support our staff and students to reach their highest potentials, in a safe and nurturing environment.
This year we embark on our journey with a pledge to you, our students and parents, that this will be a year of engaging, meaningful and rigorous work in our classrooms, combined with special events and extracurricular activities, to encourage our Red-Tailed Hawks to be involved and stay connected!
During the 2018-19 school year, we will continue to build upon and refine our foundation built around the key instructional approached from our school's Public School Choice plan:
Dual Language Program (English-Spanish)

Project-Based Learning

Technology-Infused Curriculum
This school year as part of the Creative Network, ALL students will receive standards based instruction in all arts disciplines including dance, theatre, visual arts and vocal music. Our staff of highly qualified professional educators and support personnel is committed to providing our students many opportunities both inside and outside of the classroom.
We look forward to a very positive and productive year together! We extend a special, yearlong invitation to our families to join us at school activities and events whenever possible. We want . . . we need . . . and we value your involvement and support in your child's education! Your active participation is key to the success of your young Red-Tailed Hawk during his/her elementary school years.
Please know that we highly value home/school communication here at Vista Del Valle. It is vital and plays an integral role in each student's success. We encourage you to contact us if/when the need arises, and to stay in the know about your child's studies, assignments, assessments, and school activities, as well as other events and happenings. It is our desire to keep you informed of all that is taking place at school. Up-to-date and additional information will be sent to you on a regular basis and will appear on our webpage, http://www.vistaacademy-lausd-ca.schoolloop.com.
With that in mind, you are invited to be an active participant at Vista Del Valle Dual Language Academy. Whether you are a classroom volunteer, participate in special events, or a member of our school community, you are encouraged to be involved! Research on schools clearly demonstrates that parent participation in their child's school coincides with a greater likelihood of academic success for their child.
If you have questions or concerns that arise at any time, please do not hesitate to give your child's teacher or me a call. I look forward to having a long and rewarding relationship with you and your family.
Mary Mendoza,
Principal Vista Del Valle Dual Language Academy
MENSAJE DE LA DIRECTORA
Estimadas familias de Vista Del Valle,



Todo el personal de la Academia de Lenguaje Dual de Vista Del Valle les damos la bienvenida a ustedes y su 
familia para el año escolar 2018-2019. ¡Estamos increíblemente emocionados de comenzar nuestro octavo año 
aquí en la Academia de Lenguaje Dual de Vista Del Valle! Mi objetivo como directora de la Academia de 
Lenguaje Dual Vista Del Valle es guiar y apoyar a nuestro personal y estudiantes a alcanzar sus mayores potenciales, 
en un ambiente seguro y educativo.
¡Este año embarcamos nuestro viaje con una promesa para ustedes, nuestros estudiantes y padres, de que este será
un año de trabajo significativo y riguroso en nuestros salones, combinado con eventos especiales y actividades
extracurriculares, para alentar a nuestros Halcones de Cola Roja estar involucrados y mantenerse conectados!
Durante el año escolar 2018-19, continuaremos desarrollando y refinando nuestra base construida en torno a los
enfoques instructivos claves de nuestro plan de Opción de Escuela Pública: • Programa de lenguaje dual
(inglés-español)



• Aprendizaje en base a proyectos 



• Currículo infundido de tecnología





Este año escolar

, como parte de la Red Creativa (Creative Network), TODOS los estudiantes recibirán instrucción
basada en estándares en todas las disciplinas artísticas incluyendo danza, teatro, artes visuales y música vocal. 
 

Nuestro personal de educadores profesionales altamente calificados y personal de apoyo se compromete a 
proporcionar a nuestros estudiantes muchas oportunidades tanto dentro como fuera del salón de clases.

¡Esperamos un año muy positivo y productivo juntos! Extendemos una invitación especial a lo largo del año a
nuestras familias para que se unan a nosotros en actividades y eventos escolares siempre que sea posible.
¡Queremos . . . necesitamos . . . y valoramos su participación y apoyo en la educación de su hijo! Su participación
activa es clave para el éxito de su joven Halcón de Cola Roja durante sus años en la escuela primaria.

Tenga en cuenta que valoramos mucho la comunicación entre el hogar y la escuela aquí en Vista Del Valle. 
Es vital y toma un papel integral en el éxito de cada estudiante. Le recomendamos que se ponga en contacto 
con nosotros cuando sea necesario y que se mantenga al tanto de los estudios, trabajos, exámenes y actividades 
escolares de su hijo, así como de otros eventos y acontecimientos.  Es nuestro deseo mantenerlo informado de todo
lo que está sucediendo en la escuela. Se le enviará información actualizada y adicional 
regularmente y aparecerá en nuestra página web, http://www.vistaacademy-lausd-ca.schoolloop.com.
Con eso en mente, están invitados a ser un participante activo en la Academia de Lenguaje Dual de Vista Del Valle.
¡Ya sea que usted sea voluntario en el salón de clases, participe en eventos especiales o sea miembro de nuestra comunidad
escolar, lo animamos a que se involucre! Estudios en las escuelas demuestran claramente que la participación de los padres
en la escuela de sus hijos coincide con una mayor probabilidad de éxito académico para sus hijos.
Si tiene preguntas o inquietudes que surjan en cualquier momento, no dude en llamar al maestro de su hijo o a mí. Espero
tener una relación larga y gratificante con usted y su familia.
Mary Mendoza,
Directora de la Academia de Lenguaje Dual de Vista Del Valle